1.3 billion people and more than two thousand ethnic groups make up the 29 different states of India. This country is phenomenally diverse and this is reflected in the Indian ethnic fashion's equally diverse scene. In today's post, our focus is on the top ethnic Indian dresses from the 29 states that make up India. It's a multicultural feast, and it's fun to see!
1.   Andra Pradesh ethnic fashion
Handloom and kalamkari sarees are the highlights of the Andra Pradesh ethnic women's fashion. Beautiful young maidens here prefer the Langa Voni saree, a conventional two-piece saree. The men here also wear dhotis and kurtas, among a variety of other styles.
2.   Bihar
This East Indian state is the third-largest by population in India.
Women here prefer sarees made with tussar silk fabric. For men, it's most often a kurta and dhoti.
3.   Assam
Assamese men pair their kurta and dhoti with the gamusa, a special kind of woven scarf. The women love their beautiful mekhela sador, a 2-piece ensemble made from pat silk, muga, or eri silk.
4.   Arunachal Pradesh
Fashion is a big deal here in northeastern India.
Popular with the women is a sleeveless chemise worn under a full-sleeve jacket-like attire. A belt, along with a waistcloth known as the Mushaik is worn over the chemise to keep it in place.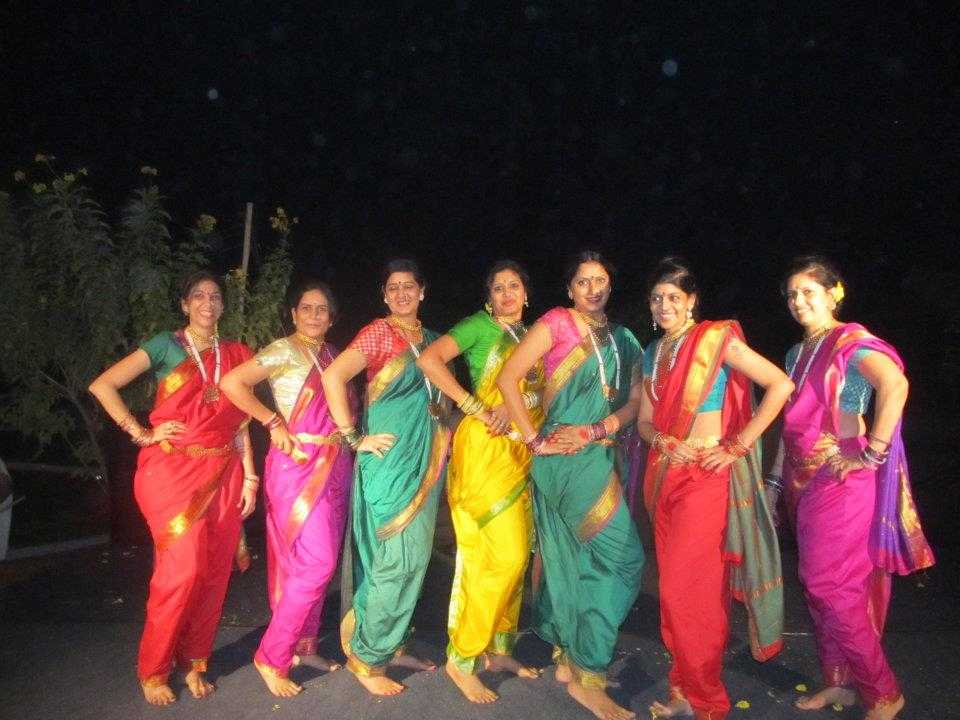 5.   Maharashtra
Nine-yard sarees known here as the Lugda or Nauwari saadi are brightly-colored and popular among Maharashtrian women. These sarees are draped in a way that makes petticoats often unnecessary. The men wear their dhotar (dhoti) paired with a short-sleeve shirt known as the pheta, and a headdress called the pagadi.
6.   Gujarat
Gujarat designers love to play with colors. The common wear for women here is a three-piece attire known as the Chaniyo Choli that comprises a head veil, ghagra, and choli.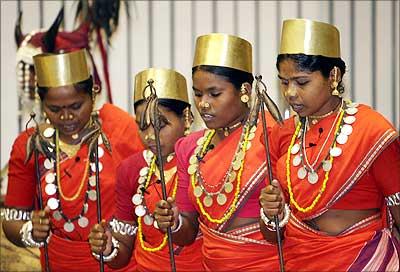 7.   Chhattisgarh
Women's fashion in Chhattisgarh includes brightly-colored knee-length or full-length commonly made from silk and cotton. For men, fashion revolves around Ghotuls, Abhuj Marias, Halbas, Murias, etc.
8.   Tamil Nadu
Ethnic half sarees such as the Kanchipuram and Kanjivaram sarees are the mainstay of women's fashion in Tamil Nadu. Young girls here like the Pavada saree-style comprised of a blouse (Ravaikai) and a shawl while older ladies prefer the Dhavani type of saree.
9.   Goa
The Nav-Vari is popular among Goa women. This is a type of saree often studded with stones, gems, and pano 'bhaju.'
10. Himachal Pradesh
The climate here is on the chilly end so it's not surprising that wooly clothes are a favorite here. Women here love kurtas, Ghagra Lehenga Choli, and their rahide headscarves decked in golden periphery. While shawls are also popular among women, men prefer kurtas along with dhoti or churidaar, complete with their pagri cap.
11. Haryana
Haryana women like their shirts a ghagra, angina, daman, and odhni. The men love their shirts or kurta with a dhoti, a pagri, and juttis shoes. The dresses here are a blend of both simple and bright colors.
12. Jammu and Kashmir
Both Hindu and Muslim women in this state wear pheran that may slightly differ. Hindu women wear their pherans with a taranga hood and. Muslim ladies here mostly wear wide-sleeved pherans along with an abaya on their heads. Both types are often paired with a beautifully embellished salwar or churidar.
13. Kerala Indian ethnic dresses
Sarees are the favorite here for women while the often opt for the Kaili or Kalli Mundu type of dress.
Read also: Ways to Style Up and Accessorize Your Indian Salwar Kameez
14. Karnataka
Women here like davani and silk sarees like in Kerala although they are often styled differently. For the men, it's often the panache, a type of dhoti, a shirt, and a mysore para hat.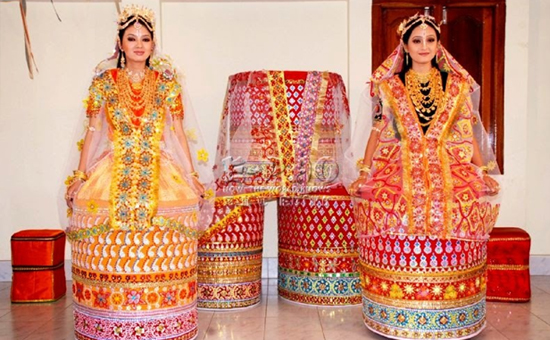 15. Manipur
The manupuri women wear their Innaphi and Phanek much like you'll wear a sarong. For the men, the main traditional attire is a dhoti along with a jacket and a pagri turban.
16. Madhya Pradesh
Men here pair their dhoti and kurta with a type of coat known as the mirzai or bandi, complete with a turban known as a safa. For men in this part of India, ethnic fashion often starts with Bandhej sarees, lehenga choli, and orni, a type of lugra.
17. Jharkhand
Tussar silk sarees and blouses are a common sight in the forest land of India. Tribal women, however, may be seen spotting a 2-piece traditional attire consisting of a parthan top and a panchi bottom.
18. Meghalaya
The different tribes of Meghalaya have different ethnic dresses.
While you can see Khasi ladies in their colorful and unstitched Dhar or Jainsen, women of the Garo tribe can be seen spotting a gama, an unstitched piece of clothing worn around the abdomen. Women of the Jaintiatribe usually wear a type of sarong known as the'thoh khyrwang,' complete with a velvet pullover.
19. Uttar Pradesh
Women of Uttar Pradesh like stylish sarees and their beautiful salwar kameez. For the men, a kurta with a pajama or a lungi is just fine.
20. Mizoram
Women here rock beautiful puan dresses paired with a puanche or kawrechi. Mizoram fashion blends both dark and bright colors to make some of the best ethnic Indian dresses for women.
21. Uttarakhand
Women from this part of India pair their long ghagri skirts with their choli and odhni. For the men, simple shirts paired with a dhoti or lungi is the deal.
22. West Bengal
Beautiful sarees do the trick for most of the women from West Bengal. For the men, a Panjabi with a dhoti or lungi is more than enough.
23. Tripura
Rinai is the main ethnic wear for the Indian women from Tripura.
The rinai is often draped around the body covering the portion from the waist up to the knees. The risa, a type of short cloth is also common here too.
24. Nagaland
The main style here is a sleeveless top worn over a slip and skirt.
While the whole attire is known as Angami, the top is referred to as vatchi, the slip is called neikhro, and the skirt is locally called pfemhou.
25. Telangana
The Telangana ethnic fashion for women is basically sarees of varying colors. The men, on the other hand, prefer dhoti paired with a kurta.
26. Punjab
Patiala salwars along with churidaars are the main staples of Punjabi women's fashion. Punjabi men's jutis and pagras are also popular across India. Men's fashion here is mostly a kurta and a muktsari nightgown.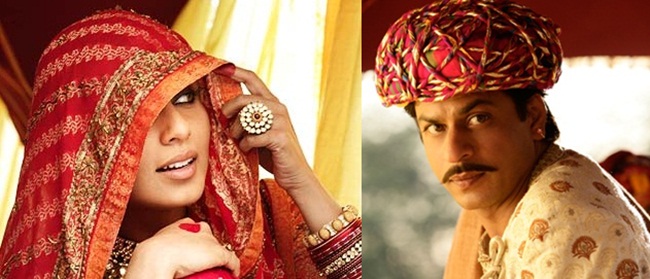 27. Rajasthan
Long ghagra skirts, kanchli pullovers or kurti, and odhnis to adorn the head are some of the things to expect from the Rajasthan Indian women's fashion.
28. Odisha
Sarees here usually integrate a kind of fringe the people call dhardia. The sarees are draped so the pallu covers the chest region. Salwar suits are also a common sight here as well.
29. Sikkim
Men's and women's fashion in Sikkim overlaps to some extent. Men and women wear Bakhu here. And while men often complete this look with a belt and loose trousers, women pairs theirs with a full-sleeved silk blouse commonly known as the honju.
Read also: Use Indian Dress To Make Someone Fall In Love With You
Conclusion
For a multicultural country like India, so much is to be expected.
The fashion scene is rich and comprises different pieces, styles, and designs from more than two thousand ethnic groups. Indian ethnic wears like the sarees, lehenga, and salwar kameez have become popular global clothing items sold across the world, beyond the borders of India.
If these interests you (and it should!) you can check out our offerings here at Fabricoz.
We trust you'll see more than one dress you'll want in your wardrobe. The good thing is we'll customize the dress to fit your body perfectly, and we'll deliver to your doorstep anywhere, fast, and for free!