Tattoos are the vogue in town. Celebrities are making it popular by donning the patterns they feel will best enhance their image. If you desire the best tattoo designs for women that are in vogue, then you must take a look at the options that we have on our list below. We have given the interpretation of each of the tattoos so that it will be easy to understand what they stand for.
Let us take a look at some of the cross tattoo designs for women that ladies can use to express spirituality on their skin.
Tattoo Designs For Women
1. Butterfly Tattoo


The butterfly tattoo is an ageless tattoo that has been around for decades. Butterflies are delicate and they represent the symbol of love, resilience, and hope.
2. Dragon Tattoo
You are going to make a powerful statement with this tattoo. The symbol of this beast will convey the message of boldness, fierceness, and power when you place it on your body. You can use this symbol to represent your strength and agility.
3. Lion Tattoo
The lion is the king of the jungle. You can use the image of a lion on your arm to instill fear and respect into the hearts of people. This ink will convey wisdom, courage, royalty, and courage to any woman that has this tattoo on her skin.
4. Semicolon Tattoo
Tattoos can have a deep personal meaning. One of the best ways to express this is through the semicolon tattoo. It can be used by women suffering from one form of depression or the other to remind them that it is not over yet for them.
5. Wolf Tattoo
Are you in search of the tattoo that best represents love and loyalty? You can use these small tattoo designs for women to send across a message. It is a symbol that will remind the wearer of the importance of family ties.
6. Elephant Tattoo
When you put the symbol of the elephant on your body, it is a clear representation of power and prosperity. It is a symbol of wisdom because an elephant never forgets.
7. Scorpion Tattoo
The scorpion is a feared creature because of its ability to inflict pain on people. If you want to send a warning signal to people that you will take no nonsense from anyone, then you can choose this symbol. It will serve as a constant reminder to the wearer that they have a duty to protect themselves from predators.
8. Snake Tattoo
The snake represents several things to many people. Christians see it as a deceiver of the brethren. Several other people see it as an evil creature. They are seen as mystical and powerful by some people. The snake tattoo in some cultures represents luck, strength, and protection.
9. Heart Tattoo
This is a very popular tattoo across all cultures of the world for the right reasons. It holds different meanings for the wearer, including love, loss, and heartbreak. There are many designs that you can choose from.
10. Skull Tattoo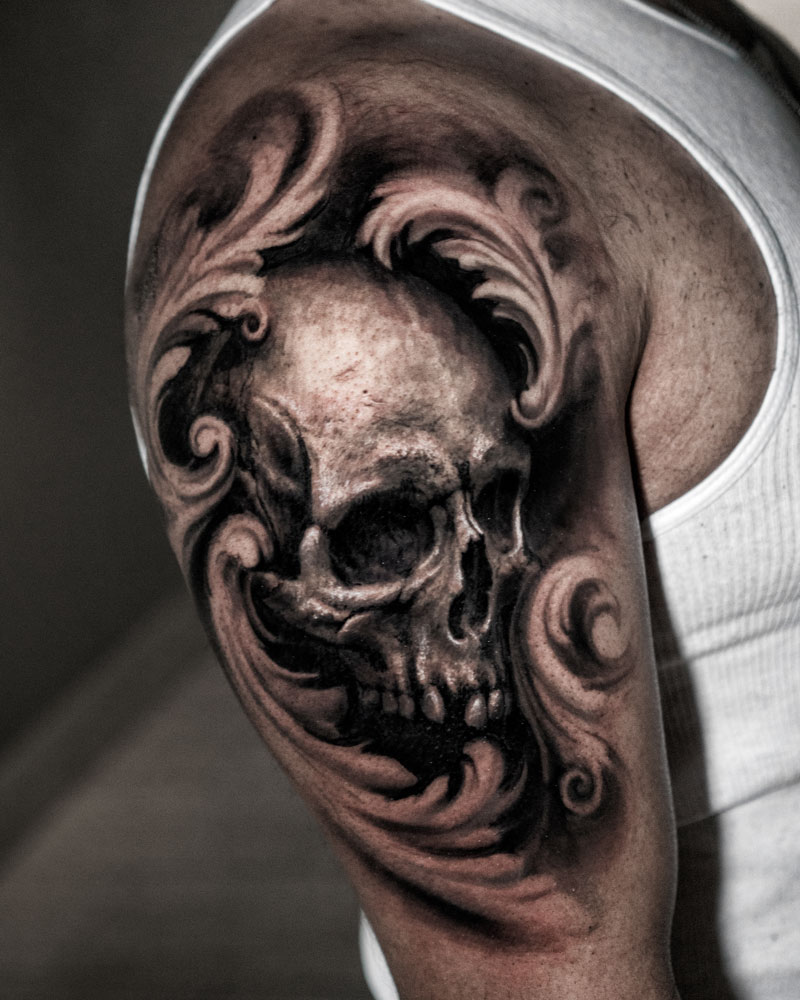 If you want to have the best skull tattoo, then you must make sure you are with a committed artist that has the proven skills to deliver results that will make you proud. You can consider bold colors or floral details because they will make you more feminine. Your ink will sure stand out.
11. Watercolour Tattoo
If you are looking for a rave-of-the-moment tattoo that is fast gaining prominence, then you can look in the direction of this tattoo. There are many designs that you can choose from here; the most popular among them are flowers. They are best suited when they are combined with a black base. This will keep the ink from fading and will create a delightful outline on the skin.
12. Angel Tattoo
The Angel is a symbol of guidance and protection. This type of tattoo can be used to represent sorrow and warn about danger. This is the tattoo design for the religious at heart who want to carry along the symbol of their faith. Angels are associated with heaven and are seen as sacred beings that are out to protect everything that is pure and sacred.
13. Compass Tattoo
The rose tattoo design for women that will be ideal for travelers is the compass tattoo. It serves as a reminder of the passion that is after your life. The use of this design dates back to the time of the sailors who used this design on their skin to navigate their way across the sea. The compass piece will also serve as a reminder of hard times that the wearer has overcome.
Read also: 10+ Unique crown tattoo designs
FAQ's
Q: Do women's tattoos hurt?
A: Yes. The pain is not as tough as people make it out to be. This pain will only last a few minutes. It is important to work with a credible artist and in a studio that has the best technology at hand. You will be in safe hands with the best pros in the business.
Q: How long will women's tattoos last?
A: It depends on the size of the tattoo. But, no matter the size of the tattoo, you must be ready to spend at least two hours with the artist. If you want to go for a full sleeve, it can take as long as 50 hours.
Q: Can tattoos be removed?
A: Yes. It can be removed without issues. The most common approach is through cover-up.
Conclusion
 The best of the top 10 tattoo designs for women have been chosen and presented above. You can take a look at the options above and pick any one of them whose interpretations best suit your purpose. You can step out in confidence with any of the styles above.