During your wedding or when attending a wedding, you need to look amazing. You can go for salwar kameez, lehenga, or any other bridal outfit. If you are the bride, you need to dress well; it is your big day. Dressing beautifully will make the wedding more colorful and memorable. However, you have to go for the latest Indian dresses for a guaranteed beautiful look. Check out these trendy Indian wedding dresses online, and you will find the ideal dress for the big day.
Banarasi Silk Bridal Lehenga in Pink and Majenta with Sequence Work
You need to look great on your big day, and this banarasi silk bridal lehenga is a great option. The attire is enhanced with embroidered work all over for a great look. In addition, it comes with pink and majenta colors to ensure you stand out on your wedding day. Besides all the great work on the lehenga, the wedding dress appearance is enhanced further with a well-designed dupatta for a fantastic bridal look.
Readymade Pink Embroidered Anarkali Suit with Dupatta
This is the biggest day of your life, and this readymade pink embroidered anarkali suit will give you a look you deserve. The suit includes a readymade kameez crafted with resham and doli work, enhanced by stones embellishments all over. Also, the wedding dress includes a matching bottom. For a complete look, the dress is accompanied by a pink, net dupatta with similar embroidery details.
Blue Embroidered Readymade Anarkali Salwar Kameez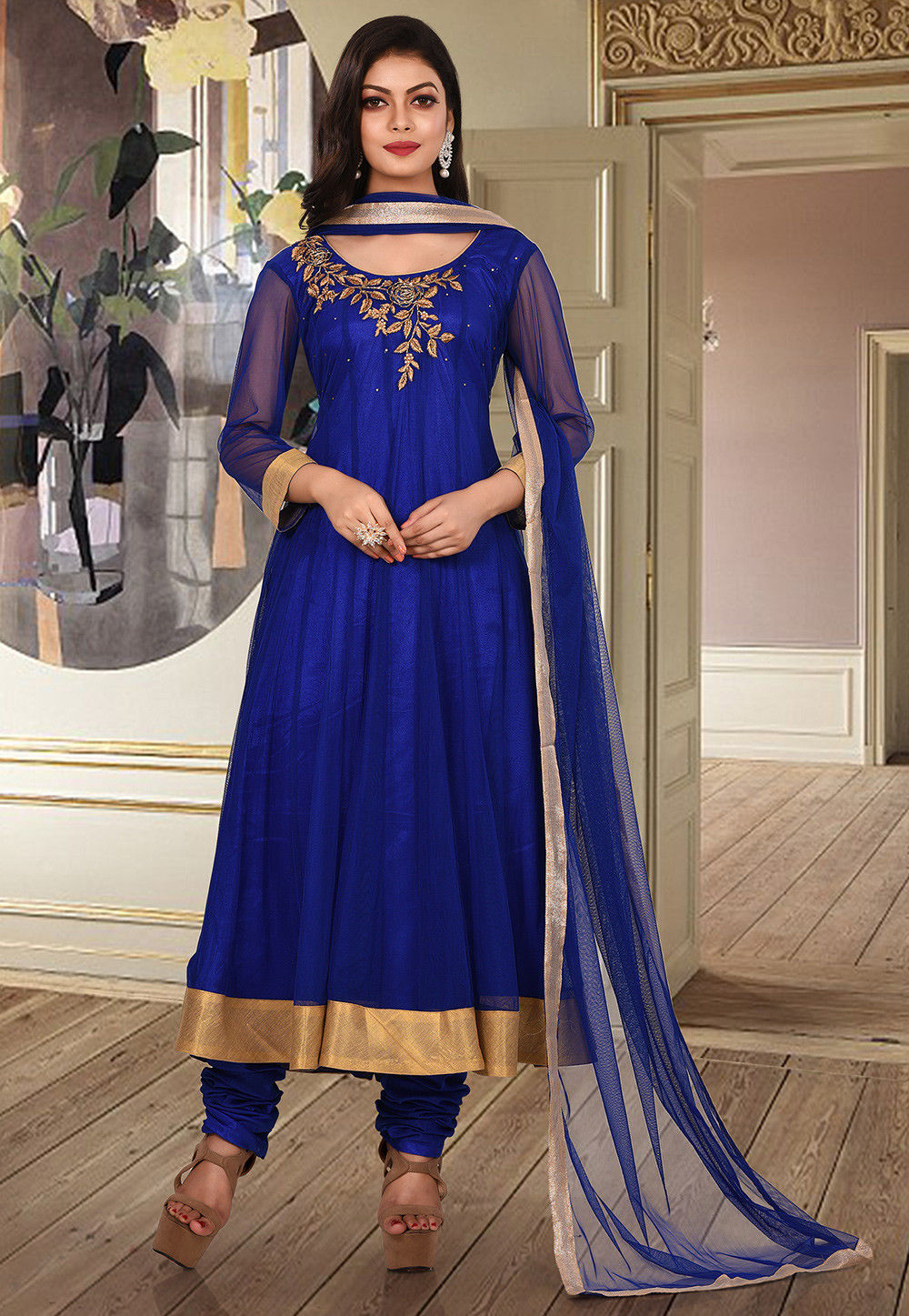 This wedding dress is blue in color and includes a net anarkali kameez crafted with resham and doli work, enhanced with stone embellishments. Also, the dress is accompanied by a matching bottom and a well beautified blue net dupatta. The dupatta is enhanced with embroidered borders. You can buy this Indian wedding dress online at a reasonable price.
Black Net Embroidered Abaya Salwar Kameez
If you don't like bright colors, you can go for this black net embroidered abaya salwar kameez. You can wear it as a bridal dress, but if it's not your wedding, you can still wear it to make a statement. The dress is decorated with exquisite zari embroidery enhanced with stone and sequins work embellishment all over. The dress is accompanied by a matching shantoon bottom and a black colored laced net dupatta with stone embroidery.
Maroon Net Embroidered Anarkali Suit
If you want to make the best first impression when attending your friend or relative's wedding, you should get this Indian wedding dress. The Kameez of the dress is encrusted with resham and thread work enhanced with floral motif all over. What is more, the kameez is enhanced with sequins embellishments. In addition, this beautiful dress is accompanied by a well-designed maroon-colored net dupatta. Get this Indian dress, and you will make a grand entrance to that wedding.
Mauve Purple Floral Embroidered Anarkali Salwar kameez
Steal the show in the upcoming wedding by wearing this beautiful wedding salwar kameez. The dress comes with beautiful embroider all over and is enhanced by stone work as well as 3D flower embellishments. It comes with a matching dupatta and shantoon bottom.
Final Words
If you want to look good at your wedding or when attending a wedding ceremony, you should consider the above trendy wedding dresses. You can buy the Indian wedding dresses online at the leading online boutiques at pocket-friendly prices. Therefore, for a beautiful look for that upcoming wedding, get any of the dresses, and you will look more beautiful for the event.