Lehenga is not just an ethnic outfit but also a versatile one. When you wear lehenga in the same style all the time for different occasions, you will look pretty boring. You need to look for creative ways to spice-up the look. The styling options are plenty, and will range from the way you drape your dupatta, to the choice of blouse. To help you learn how to look stylish in lehenga, here are different ways you can consider.
Pair Slit Top with Lehenga Skirt
For a simple, stylish look to that party, you can choose to pair a slit top with the lehenga skirt. If you don't prefer a slit top, you can go for a long-sleeved jacket. This pairing will give you a new, beautiful look ideal for simple parties. The only secret here is to pick the slit top or jacket according to the color and work on the lehenga skirt. Don't forget to spice up the look with matching accessories like earrings, necklaces, bangles and more.
Lehenga with a Belt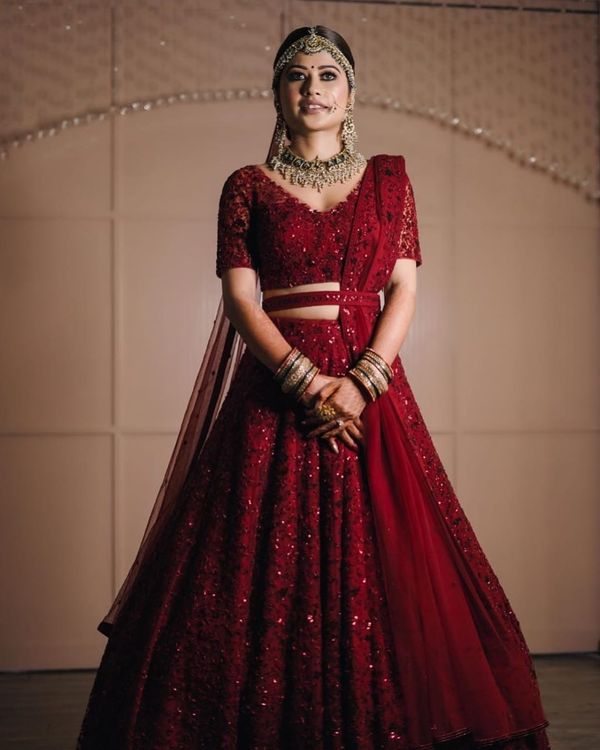 For a perfect fusion style, you can use a belt with lehenga. This is a unique style that will not only make you stand out from the crowd, but also make your waist line look slimmer. You can wear the dupatta in the normal ways, but pin it around the waist using the belt. For that reason, it is important to go for a slimmer belt for a unique look that complements your body shape. This is a unique style, and it's even coveted by many Bollywood celebrities.
Dupatta Around the Neck
Your dupatta draping style will determine your overall look. Therefore, you should keep it simple. Just wrap your dupatta around the neck, and it will do the talking. The styling will give you a polished, beautiful and youthful look. But you should go for a long dupatta matching either the top or lehenga. Additionally, just beautify your hair and wear nice necklaces, bangles and earrings for a complete stylish look.
Anarkali Suit with Lehenga Skirt
If you want all eyes to be on you when attending that important function, you need to consider pairing anarkali suit with lehenga skirt. You just need to pick your lehenga according to the anarkali suit, or vice versa. After dressing, you can then top up the look with a matching choli over the attire. This will not only give you a unique look, but also make you look younger. And who wants to look older? No one!
Lehenga and Saree Hybrid
These are two ethnic outfits that look good independently, and pairing them together will give you a unique, gorgeous look. You just need to pick matching saree and dupatta, and pair it with the beautiful lehenga. The dupatta should be draped like a 'pallu' of the saree. That way, you will have a hybrid attire that looks beautiful for any occasion or event.
Lehenga Blouse with Simple Skirt
Many people out there prefer to wear heavy embroidered blouses and skirts. However, you can break the monotony and consider to wear an embroidered blouse and pair it with a simple lehenga skirt. For a new look, consider simple plain cotton or silk skirts. You can wear this ethnic attire to less important occasions or traditional events.
Pair Lehenga Skirt with a Plain Blouse
For a casual and gorgeous look, you can pair your beautiful lehenga with a simple plain blouse. The blouse should have a contrasting color of the skirt. The skirt can be beautified, but keep the blouse as simple as possible. You can choose to use a dupatta or not. However, you must wear beautiful necklaces, earrings and other accessories to enhance the look.
Where to Buy Top Quality Lehenga?
For a complete, beautiful look with an ethnic touch, you need to buy top quality lehenga. Fabricoz is one of the leading online boutiques selling Indian outfits ranging from lehenga to salwar kameez. At the online boutique, you will find beautiful wedding lehenga, party lehenga and all other types for lehenga for a unique look for any occasion. The lehenga and other ethnic attires are sourced from leading brands and are offered at pocket-friendly prices. It is a one-stop online boutique for Indian attires and jewelry.
Final Words
It is essential to break the monotony of wearing lehenga in the usual way. To look different and beautiful on every occasion or party, you must wear lehenga in different ways.  The above styling ways, will not only enhance your look, but also make you feel more confident for every occasion. In addition, some of the styles will make you look younger and slimmer. Therefore, consider the above styles, and you will always look stylish in lehenga.