Lehenga is one of the most popular ethnic outfits is the fashion industry. The outfit can be wore for formal as well as informal events. In addition, the outfit can be styled differently for a stylish look. How do you look when you wear same type of lehenga choli all the time? It's pretty boring. To help you look great, here are different ways to wear lehenga.
Pair lehenga skirt with slit top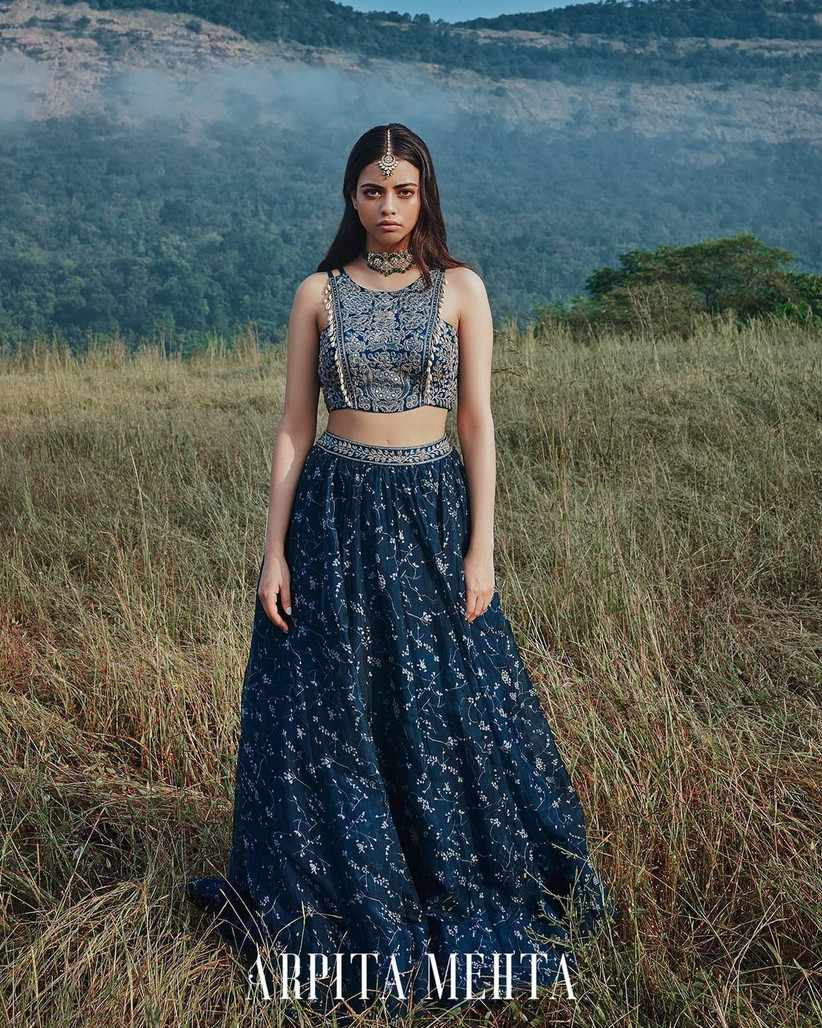 Pairing your lehenga skirt with a slit top or jacket can give you a unique look. It is not a must you pair your lehenga with choli, try to be more creative by wearing the skirt with a well-designed slit top. This will give you a brand new look, and no one will notice you are wearing your regular lehenga. You can wear this outfit to any party, and make the right impression.
Wrap your dupatta around the neck
Your draping style will do all the talking. Get it right, you will look great, do it wrongly, you will mess the overall appearance. You should not pin your long dupatta to your blouse. Instead, you should wrap it around the neck to give your outfit a classy, youthful touch. It's a simple draping style, but will help you get that stunning look.
Wear your lehenga choli with belt
Many people don't like to wear lehenga with best. However, when you use a belt with this ethnic wear, you will definitely look unique. May be you have seen top Bollywood celebrities going for this style. So, why should you not try it? The style is ideal for plus size ladies as it make them appear slimmer around the waistline. However, be careful on the belt you choose, some belts can ruin your appearance.
Avoid heavy embellishments on both pieces
If you are going to a wedding, you can choose to wear heavily embellished lehenga and choli. However, if you are going to a formal party or just taking a walk, you should avoid heavy embellishment on both the lehenga and choli. If you go for a heavily embellished lehenga, wear a plain choli, and vice versa. That way, you will look simple, but beautiful. Look at this website to see the latest lehenga choli with balanced embellishments.
Wear saree and lehenga hybrid Sarees and lehengas are two Indian ethnic outfits, and wearing them together will produce a super-hot appearance. You should wear the lehenga, and drape your dupatta like the border of the saree. That way, you will appear like you are wearing a beautiful saree, but in reality, you have the answer – lehenga.  This styling option is gaining popularity thanks to its unique and gorgeous look.
Lehenga skirt with, plain top or blouse
You can wear your lehenga with a plain top or blouse. However, the color of your skirt should be in contrast to the color of the blouse. Also, if you the skirt is heavily embroidered, get a simple top or blouse for a great look. You can choose to wear a dupatta or leave it.
Consider contrasting colors for lehenga and choli
In the last few years, people are going for contrasting colors. You should also not be left behind. Wear a lehenga with a contrasting color to that of the choli. But you can opt for same color for the two pieces, but go for a dupatta with a contrasting color.
Final Words
When you continue to wear your lehenga the usual way, you will continue to look boring. However, with the above tips of wearing lehenga choli in different ways, you can get the best look. Therefore, use the tips, and you will not only look unique, but also gorgeous.