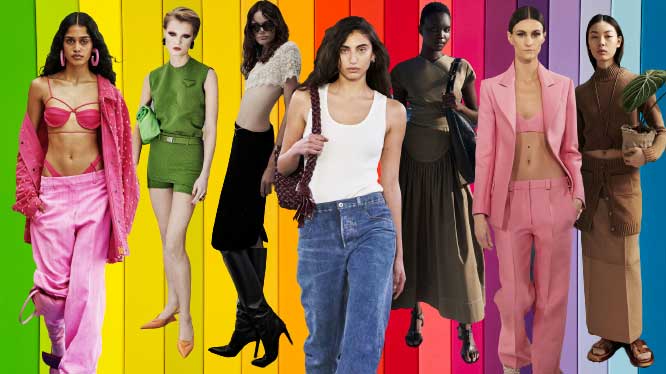 For almost two years, we have not enjoyed summer as it should due to lockdown and other covid-19 restrictions. But this season, things are looking brighter and promising as you can hang out with family and friends at the beaches and other public spaces. It is now time to get ready for a bright summer season.
To have the best moments this summer, you need to wear the right outfit. Appropriate attire will ensure you soak in the vitamin D from the sun and feel comfortable while outdoors. You don't have to wear old shorts and tank tops in your wardrobe. Consider upgrading to something more stylish and comfortable.
Many summer fashion trends have made waves all over. It's upon you to choose what suits your lifestyle. Here are the top summer fashion trends for 2022 you will actually want to wear.
Ultra-Mini Minis with Crop Tops
The time has come for you to get out there and have fun. Long skirts are not ideal for summertime fun. You should therefore consider ultra-mini miniskirts that leave half of your thighs exposed. Different brands are offering these unique outfits, and you can have them to wear this summer. You can pair these minis with a crop top of your choice.
But ensure the fabric of the skirt is light and smooth. Additionally, choose one with bright prints or super-statement shades, depending on your skin tone and event. Such a skirt paired with a colorful crop top will make a huge statement.
Strapped Blouses/Tops/Dresses
Strapped outfits have gained popularity in recent years. And you can find blouses, tops, dresses, and skirts with strapped accents. You can choose a skirt or trousers with a strapped waistband crisis-crossing the stomach region. Also, there are stylish tops with multi-straps across the chest and shoulders.
When you wear outfits with straps, you will feel flexible and comfortable. You just need to learn how to wear them, and you will look stylish and feel comfortable this summer.
White Suiting
You have probably seen top celebrities wearing white suits to different events. It is an old trend that is slowly coming back. You can also embrace the trend and get yourself a white suit. But you should ensure you match it with a black shoe to have a coordinated look. You can choose this trend when going to a party or special event.
However, if you don't like white suiting, you can consider a white blazer and jeans. Alternatively, choose a white blazer, and cream trousers and complete the look with a breezy t-shirt. Remember to choose the appropriate footwear.
Pimp that Looks with Sunglasses
Heading out to the beach without sunglasses is a big no this summer. The sunglasses provide protection against UV light and can help reduce headaches and migraines common in the summer. But you need to choose the right sunglasses that block 99% to 100% of UVA and UVB rays.
You should buy Rag & Bone 1025 Cat-Eye Sunglasses. These sunglasses come in different sizes and colors. That ensures you buy fitting sunglasses suitable for your lifestyle. They are durable, and you will enjoy wearing them this summer and in the future.
Get Sporty
Gone are the days when sportswear was left for the sports personalities. You can try tracksuits, polo t-shirts, biker shorts, track jackets, and sports tops this summer. You can complete your sporty look with sneakers. But to maintain the feminine look, you can choose to wear slide sandals and carry a clutch.
A sporty look will be common this summer as heat is predicted to be very high. Most sports attires are breathable and can keep you cool even on sunny days. Therefore, update your wardrobe with some new sports clothing and footwear.
Cut-Out Dresses
Cutout dresses are increasingly becoming popular. It all started with top designers and celebrities; this summer, it is your time to join the club. Different brands are offering cut-out dresses. Some have cutout placements around the chest section, hips section, shoulders, or at the back.
Most top stylists recommend choosing dresses with cutout placements around the mid-section. But you can choose the style you feel comfortable in or what makes you look wow.
Reach for Bright Colors
If you don't like the all-white suit discusses above, you can choose an all-yellow outfit. The yellow hue seems to be one of the hottest hues this summer. You can start with a neon yellow slinky dress. It will look awesome on you when you accessorize it with simple jewelry and a classy handbag or clutch.
In addition, you can choose hot pink, bright red, orange, sage green, lavender, and cobalt blue as they will be popular this summer. You can pair these colors with neutral colors if you don't like a monochromatic look. But choose colors that blend well with your skin tone and make you feel good. Remember to spice the look with your favorite gold jewelry.
Regencycore is Making a Comeback
Summertime allows women to go for feminine dresses and floral prints. And if your like floral prints, you should smile this summer as Regencycore is trending again. Different styles are available; you need to choose the design and color that makes you feel good.
Trendy Footwear This Summer
Slide sandals are top in this list. These sandals are light and comfortable, and you can wear them all day. You can wear slide sandals when hanging around or going on a trip. If you have corporate events to attend, you can get wedges. Other shoes expected to be popular in summer 2022 include platform heels, platform sandals, strappy sandals, and sneakers.
Final Words
You have to look great this summer. We know you have many places to go and have a good time as the last two summers were not kind to us. And that is why we have compiled top summer fashion trends for 2022 you should try. Remember that not all fashion trending can look good on you. Choose what makes you feel comfortable and confident. Most importantly, choose an outfit that makes you look hotter.