The Pakistani salwar kameez, also known as the shalwar kameez dress is the national dress for men and women of Pakistan. This outfit is most prominent in Pakistani ethnic fashion, comprised of a salwar bottom that's either wide and baggy or narrow and a kameez top.
The salwar kameez is a very versatile dress that will fit perfectly for a variety of occasions. If you're considering getting one for yourself anytime soon, you might want to consider some of these gorgeous trending styles and designs.
1.  Lawn suit with embroidery
This simple lawn suit design and very beautiful and varieties of this design is taking the fashion scene by storm. It's comprised of a top kameez of medium length just below the knees. The material is a lightweight premium chiffon fabric.
The features beautiful embroidery on the front as well as on the borders. It's complete with dyed matching salwar and a transparent chiffon dupatta.
2.  Silk And Net Anarkali Dresses

Anarkali suits got their name from the legendary Anarkali, a fictional character of the ancient Mughal empire. The suits ooze royalty and luxury and this red, frock-like kurta embody everything we have come to love about these Anarkali dresses.
The kameez top is made from a fancy silk fabric while the bottom is made from santoon fabric. The dupatta is beautifully embroidered at the corners as well as are the borders and neckline.
3.  Embroidered sharara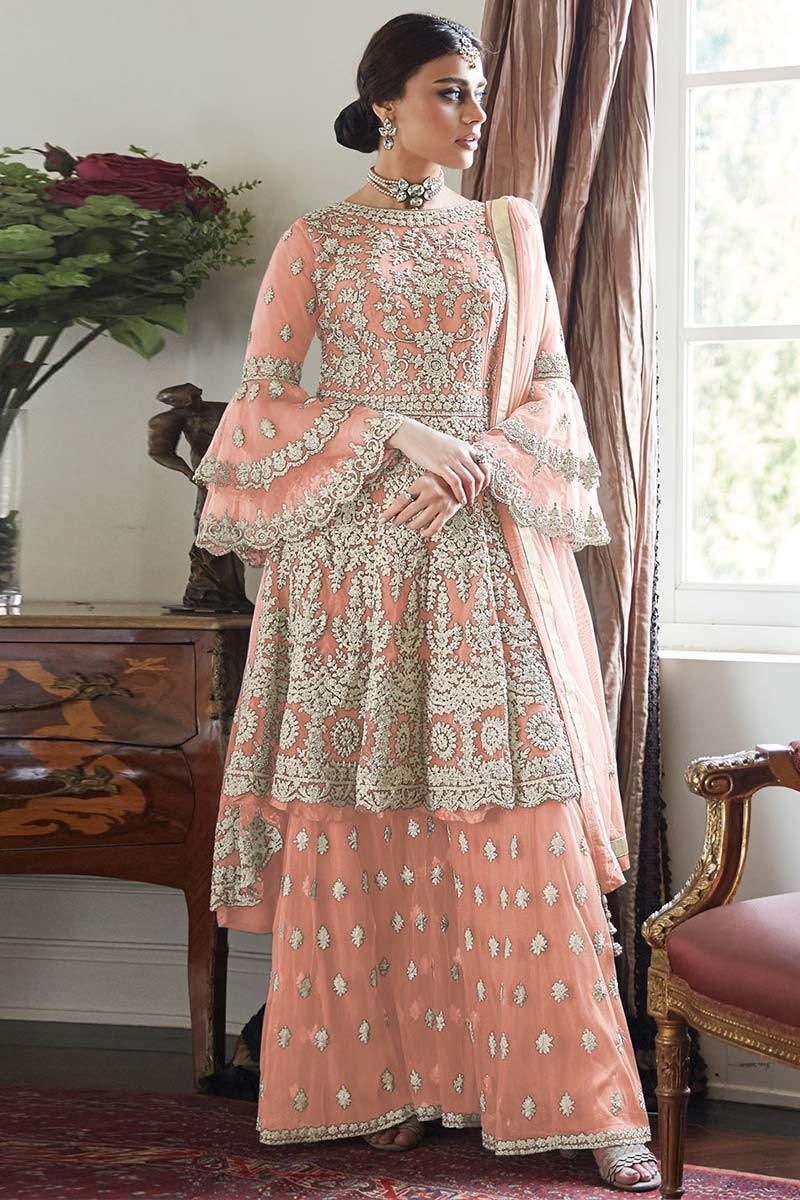 Women of all ages are happy to rock a straight cut salwar kameez.
This Anarkali kameez has a straight cut kameez that extends to the wrist. This Pakistani salwar kameez design comprises a beautifully embroidered red churidaar made from fine quality georgette fabric that creates a straight-to-flare silhouette in the palazzo-like pants.
The kameez borders including the sleeves and necklines also feature intricate embroidery while the material is also a georgette fabric. The whole outfit is then matched with a chiffon dupatta, completing a beautiful shalwar kameez design that's perfect for Eid, and just about any other festival and event.
4.  Luxury Chiffon Embroidery
This Pakistani salwar kameez dress is just wow!
The clever choice of fabric and design is excellent and explains why this design is something to reckon with at the moment. The dress under consideration is offered here at the Fabricoz store. It's a cream-colored salwar kameez with moderate embroidery on the top's front and sleeves.
While the embroidered top is made from premium chiffon, the straight-cut bottom is made from raw silk. The dupatta itself is a fine-quality chiffon fabric with beautiful digital print. It's one dress you'll love to have in your wardrobe for all seasons and occasions.
5.  Straight Salwar Kameez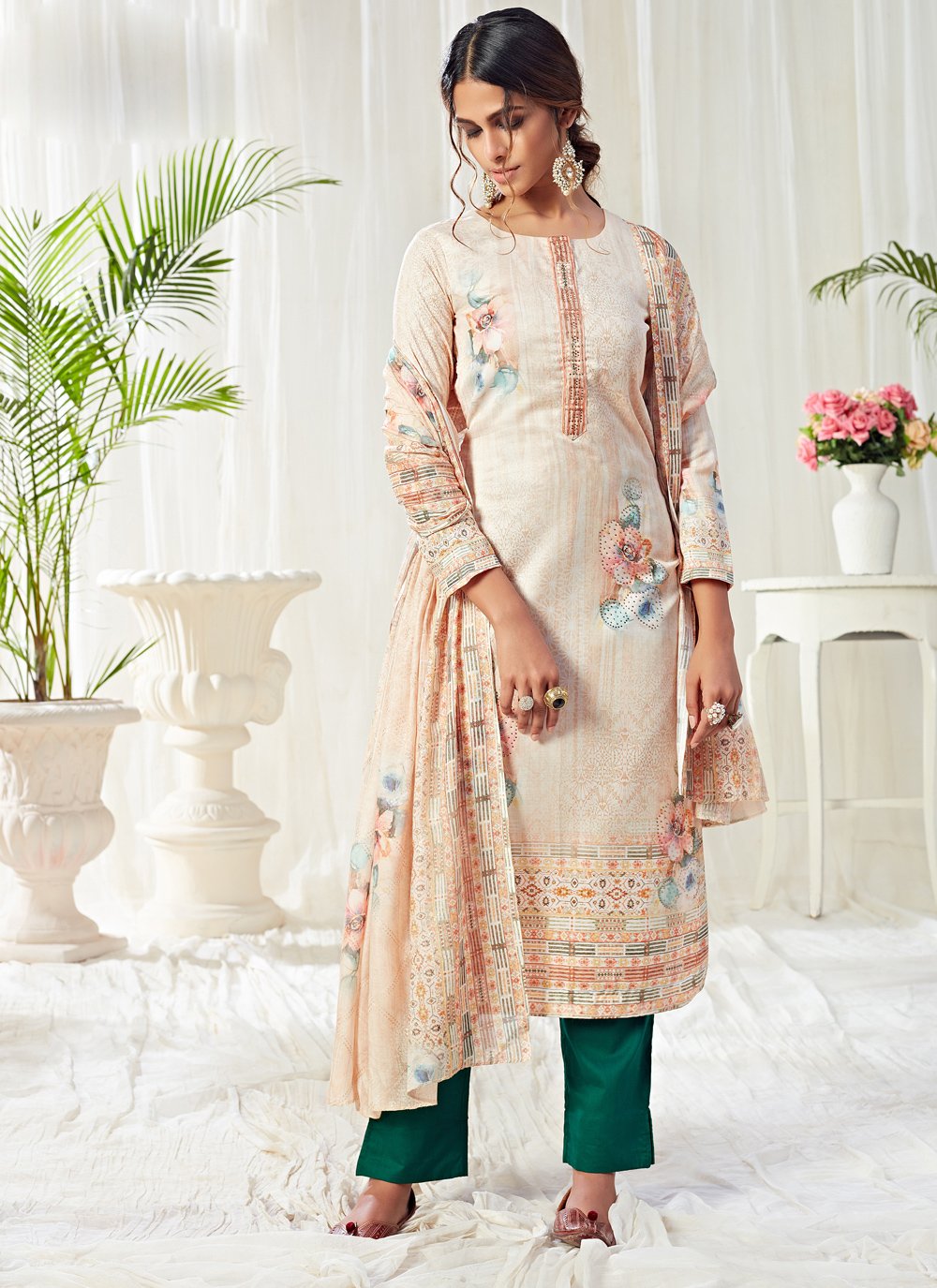 Nail the perfect casual look in this straight Salwar Kameez from Fabricoz's best designers. It's a yellow-colored salwar kameez with an embroidered jacquard fabric top and a plain santoon bottom. The outfit comes with a georgette dupatta with a beautiful embroidery design.
Whether you're going for a big outing or a casual stroll down the street, it's always a hit and never a miss with this super simple salwar and kameez top.
6.  Patiala Shalwar Kameez
The Patiala salwar is also making a statement in 2021.
This Pakistani dress is comprised of a fitted Kurti or tunics that could be long or short paired with loosely fitting and pleated Patiala pants or salwar. This is mostly a casual outfit but can still be worn on formal occasions and outings.
Patiala salwars of all kinds of styles, designs, and colors are becoming more popular by the day. These are often paired with dupattas that are also often commonly made from silk or chiffon fabric.
7.  Short Straight Salwar Kameez
These are in trend but in all honesty, they've never gone out of style.
They are simple and elegant and are a favorite among women in Pakistan and beyond. While it's great for women of all ages and body shapes, the short straight salwar kameez is loved for its ability to help women create a lean and slim appearance.
Short straight salwar kameez usually comprise of a fitting top kameez that stops at the knee length along with a cigarette pant salwar or fitted churidar. Some women also complete their outfit with a matching dupatta. This Pakistani salwar kameez is a big style trend of 2021 and is one timeless piece you'll never regret having in your wardrobe.
Pakistani Salwar Kameez Fabric
The Pakistani fashion scene is incomplete without the salwar kameez. While it's one piece you really need among your ethnic fashion collection, it's still important to have basic salwar kameez shopping knowledge so you can always end up with the best dresses.
One of the key areas of concern is usually about choosing the right fabric.
The most comfortable fabric for salwar kameez is cotton. While pure cotton is the softest and most comfy, blended fabric products like cotton silk and cotton jute are also quite great.
Silk also makes a great material for salwar kameez dresses.
These types of salwar dresses are often the most expensive, thanks to the smooth, shiny, and comfortable nature of silk fabric. While there are several varieties of silk fabrics used in making salwar kameez, the most popular are Banarasi silk, Tussar silk, and Mysore silk.
Conclusion
Salwar kameez dresses are one of a kind.
These dresses take a prominent place in the heart of both Indian and Pakistani fashion. If you're contemplating getting one for yourself soon, any of these Salwar Kameez style trends discussed above will help you nail the perfect ethnic diva look, depending on the occasion and your intended style and look.
Care to deck yourself in gorgeous Pakistani salwar kameez; you should consider checking out some of the beautiful and sophisticated designs on offer here at Fabricoz. We deliver all over the world, and we're sure you'll find one or more styles that will warm your heart!