Want to make a grand entrance at that party? Then, you must upgrade your wardrobe by buying the latest Indian outfits that will make the heads turn. There are many Indian outfits you can consider, but it's best to consider the latest Indian salwar kameez as they not only look great, but also make you feel more confident. To help you upgrade your wardrobe, here are latest salwar kameez outfits in the fashion industry you should buy.
Green Color Designer Palazzo Salwar Kameez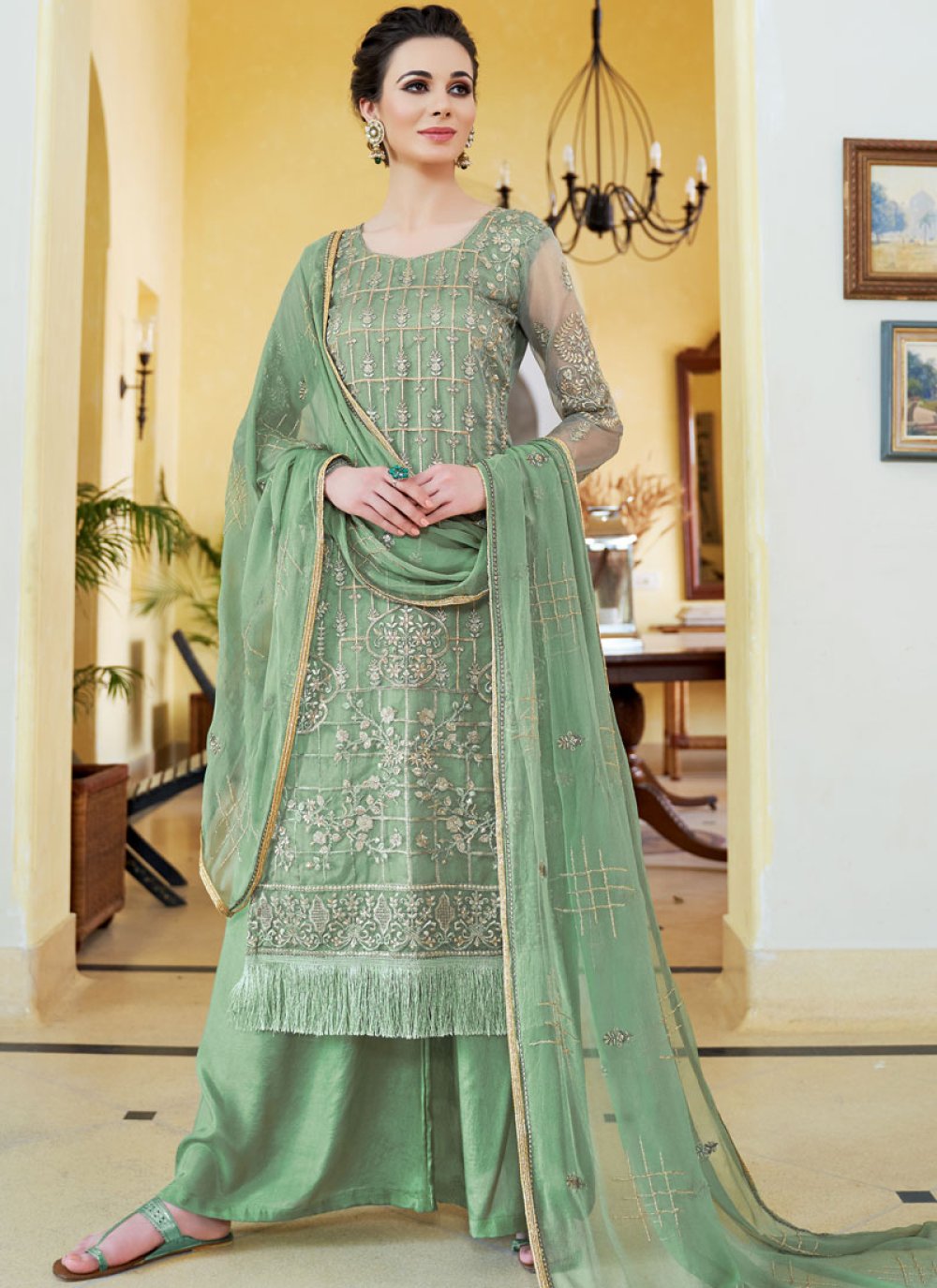 This is an extra beautiful attire you need to wear for the next party or occasion. The palazzo salwar kameez is in green and comes with charming embroidered work to make it more beautiful. In addition, the attire is well-designed for durability and thanks to its cool fabric and design, the attire is very comfortable. It comes with a matching dupatta and bottom to give you a complete ethnic look. When you wear this outfit, remember to enhance your beauty with earrings, necklaces and other accessories.
Pashmina Bollywood Salwar Kameez in Grey To make the best impression when going for a date or party, you will need this salwar kameez. The Pashmina Bollywood salwar kameez features a unique design and beautiful embroidered work that make it a must-have for parties or festivals. Besides the interesting embroidered work, the Indian outfit has matching dupatta and bottom to give you a stunning look. The most interesting thing about the outfit is that it looks simple, but well-designed for any occasion.
Cotton Navy Blue Salwar Kameez
To upgrade your wardrobe, it is essential you go for not just well-designed outfits, but also outfits that can keep you warm in winter. Cotton navy blue salwar kameez can be a great addition to your wardrobe for cold days or nights. The attire is comfortable and you can wear it for important ceremonies, parties or even festivals. What makes this Indian salwar kameez unique is its stunning canvas with beautiful embroidered work.
Salwar Kameez for Festival
To add grace and charm to your look when going for a party or festival, Salwar Kameez for festival is what you need. The outfit comes with a black top and a white bottom with fantastic print work. The bottom matches the dupatta, to give the attire that special look. More to that, the Indian outfit features extraordinary embroidered work to enhance its appearance.
Embroidered Georgette Salwar Suit
If you want to look like an angel for the upcoming wedding or occasion, embroidered georgette salwar suit is a perfect attire to wear. The attire is well-designed for weddings, parties and even festivals. With its red color, and embroidered work, this dress can be a great addition to your wardrobe. You just need to match it with exceptional accessories like earrings, for a stunning look.
Red Party Palazzo Salwar Kameez
This Indian attire is one of the best outfits you can take as a casual wear as well as party wear. The attire is very beautiful thanks to its red color and fantastic print work. In addition, it has a fantastic canvas with amazing print work. The bottom and dupatta match to ensure you have a unique look for that party or occasion.
Final Words
Upgrading your wardrobe is not that easy. However, with the above Latest Indian Salwar Kameez to Buy, you can easily upgrade your wardrobe. Therefore, get these outfits, and you will not only look good for the parties or occasions but also feel confident any time you wear these attires.