Kurtas are an integral part of every woman's ethnic wardrobe. These versatile and elegant garments not only celebrate traditional Indian fashion but also offer a canvas for creativity and personal style. From intricate embroidery to contemporary cuts, stylish kurtas have evolved to cater to the modern woman's fashion sensibilities. In this comprehensive guide, we will delve into the realm of stylish kurtas for women, showcasing the latest trends, sharing styling tips, and answering frequently asked questions to help you curate a wardrobe that exudes grace and sophistication.
The Charm of Stylish Kurtas
Stylish kurtas offer a unique blend of elegance, comfort, and versatility. They effortlessly combine traditional elements with contemporary fashion, making them a wardrobe essential for women of all ages. Whether it's a casual outing, a festive occasion, or a formal event, kurtas allow you to make a fashion statement while embracing cultural heritage.
Contemporary Designs and Silhouettes
The world of stylish kurtas offers an array of designs and silhouettes to suit every taste. From asymmetrical hemlines to high-low cuts, from A-line to straight fits, there's a kurta for every body type and personal preference. Experiment with trendy details like cold-shoulder or bell sleeves, shirt-style collars, or keyhole necklines to add a modern twist to your traditional attire.
Embellishments and Embroidery
Embellishments and embroidery work are key elements that enhance the beauty of a stylish kurta. Intricate threadwork, mirror work, sequins, or zari detailing can transform a simple kurta into a stunning masterpiece. Choose embellishments that complement your personal style and the occasion you're dressing up for, whether it's a delicate touch for a daytime affair or bold embellishments for a grand celebration.
Fabrics that Spell Comfort
The choice of fabric is crucial when it comes to comfortable and stylish kurtas. Opt for breathable fabrics like cotton, linen, or chiffon for casual and everyday wear. For special occasions, explore the richness of silk, georgette, or velvet kurtas that exude opulence and grace. The right fabric not only enhances the overall look but also ensures comfort throughout the day.
Pairing Kurtas with Bottoms
Styling a kurta involves pairing it with the right bottoms to create a cohesive and stylish ensemble. Traditional options like churidars and salwars offer a classic look, while palazzos and wide-leg pants add a contemporary flair. Experiment with different lengths and styles of skirts, dhoti pants, or even jeans for a fusion twist. Remember to strike a balance between the kurta and bottom, ensuring they complement each other in terms of color, pattern, and style.
Styling Tips for Different Occasions
Styling a kurta can be tailored to various occasions. For a casual day out, pair a knee-length kurta with leggings and accessorize with statement earrings and Kolhapuri sandals for a boho-chic vibe. When attending a wedding or festive celebration, opt for a floor-length Anarkali kurta with intricate embroidery, paired with a contrasting dupatta and embellished juttis. For a formal or office setting, choose a well-tailored kurta in a solid color, paired with tailored trousers and heels for an effortlessly sophisticated look.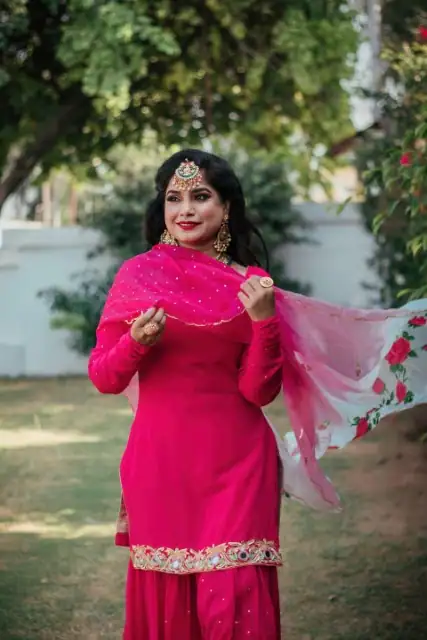 FAQs
Can I wear a kurta for formal events or office wear?
Absolutely! With the right styling and choice of fabric, kurtas can be appropriate for formal events and office wear. Opt for well-tailored kurtas in solid colors or subtle prints, paired with tailored pants or skirts. Add sophisticated accessories like statement jewelry or a structured handbag to elevate the look.
How do I choose the right length and silhouette for my body type?
Consider your body type when selecting the length and silhouette of a kurta. For petite frames, opt for shorter lengths and well-fitted silhouettes to create the illusion of height. Tall women can experiment with longer lengths and flowy silhouettes. Apple-shaped bodies can opt for A-line or empire waist kurtas to create a flattering shape, while hourglass figures can embrace fitted silhouettes that accentuate their curves.
What are some popular accessories to complement a stylish kurta?
Accessories play a vital role in enhancing a stylish kurta ensemble. Statement earrings, jhumkas, or chandbalis can add a touch of glamour. Embellished or embroidered clutches, potli bags, or metallic belts can further elevate the look. Pay attention to footwear, choosing from traditional juttis, mojaris, or heels to complement the style of the kurta.
Conclusion
Stylish kurtas for women offer a perfect blend of comfort, tradition, and contemporary fashion. By exploring the plethora of designs, silhouettes, and embellishments available, you can curate a versatile ethnic wardrobe that caters to every occasion. Embrace the allure of stylish kurtas and unlock a world of timeless elegance and cultural expression. Let your fashion choices reflect your individuality and celebrate the richness of Indian ethnic wear.